Well, we asked for it!!
The Bahamas will all now see that the May 10th, 2017 vote for the Free National Movement ("FNM"), was really a vote to make LOUIS
MOORE BACON the undisputed man behind the curtain controlling it all in our Bahamas.
Alas, the oldest parliamentary democracy in this hemisphere, established in September 1729, will come crumbling down, if we fall asleep or allow ourselves to become mentally enslaved by Louis Bacon, or at his instance.
Remember, the first overt move of Louis Bacon in his "take-over bid" of The Bahamas, was to get our people to like him.  That seems to have been attempted when he lied in February 2013 at a USA-based Audubon National Society Gala Dinner held in his honour.
He had gotten Audubon to accept his claim that he had led The Bahamas grass-roots campaign nearly 20 years ago (1999-2004) which led to the creation of the Clifton Heritage National Park.
After that grass-roots movement, led by Bahamians like Keod Smith under his umbrella organization known BAHACUS (Bahamas Altruistic Coalition for Unity and Success), had broken the back of the Hubert Ingraham FNM Administration, in 2004, the Perry Christie Progressive Liberal Party ("PLP") Administration enacted statute making that park a part of the Bahamian cultural patrimony which embodies three distinct civilizations, most notably that of our African ancestry.
With Bacon's 2013 Audubon lie taking root, he began attacking those who sought to expose his plan.  He did this through a smear campaign, putting his billions to work to discredit them by using law-suits which many consider to be no more than an abuse the process of the court.  Not only is this tactic continuing, it is expected that with the FNM in power, Louis Bacon's attack against Bahamians and friends of The Bahamas, will become more aggressive.
His most dubious achievement thus far was the apparent destruction of the privilege and independence of our 288-year-old Parliament.
This happened when his Save The Bays organization and his brother, Zachary Bacon, convinced the Court to order that all email evidence related to their alleged illegal wrongdoings set out in emails that had been tabled, was to be destroyed.  Those emails had been tabled in the Parliament by then PLP Cabinet Minister, Hon. Jerome Fitzgerald.
According to PLP Members of the 2012-2017 Parliament, the referenced email evidence shows that over $8 Million had been obtained from Bacon's USA-IRS 501(c)(3) tax-exempt, Moore Charitable Foundation.  It is said that those funds were for illegal and improper purposes, including the overthrow of the 2012-2017 PLP Administration, which happened on May 10th 2017.
That Court Ruling is now on appeal before The Bahamas Court of Appeal.  They must now carefully analyse the allegations that the money complained of had been channeled through the law firm of Fred Smith QC, Callenders & Co.
The argument primarily made in the 2012-2017 Parliament, suggests that the USA-IRS would be very interested in criminally prosecuting Louis Bacon and his Moore Charitable Foundation.  The use of 501(c)(3) tax-exempt money for political purposes or overthrowing foreign governments, is said to be outside of the exempt purposes set out in USA law.
Could this be the reason why the main aim of that Court action was to get a court order destroying the email evidence altogether?
Although the new FNM Administration has not yet sat in Government for one-month, there are already public discussions seeming to suggest that the new Attorney General will withdraw the support of that office from the appeal although it addresses significant issues in the public interest.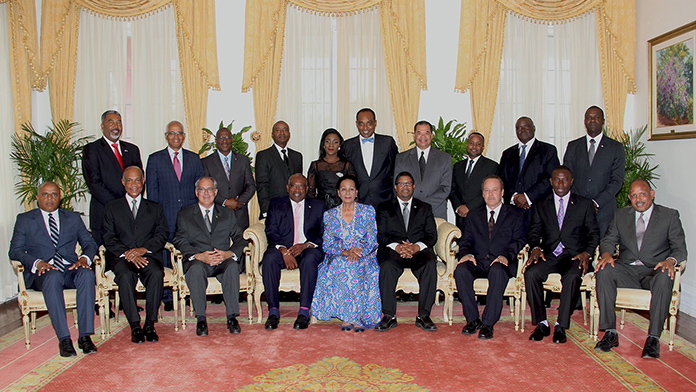 Another major thing related to Louis Bacon's lies at Audubon, concerns the appointment of a new Board of Directors of the Clifton Heritage National Authority.  Is this when we will see attempts to sell all or part of the 2-mile long pristine beach, inclusive of Jaws Beach .
However, remember, Louis Bacon had said years ago, that he had made an offer to the Hubert Ingraham FNM Administration to buy the Clifton Heritage land in order to supposedly gift it back to our people.
Many of us saw that offer as being highly suspicious. Many of us already knew that the land was ours as a result of Sir Lynden Pindling and his PLP 1987-1992 Administration statutorily acquired it for a public purpose in 1989.  Louis Bacon had never publicly announced that what he was proposing, did not entail him keeping any part it for himself.
The next significant issue for the FNM, seems to be the immediate promulgation of the FREEDOM OF INFORMATION ACT.  However, we don't think that what is to be tabled would have protective protocols such as were introduced by President Barack Obama in 2010 with Dodd-Frank amendments to then USA 43-year old Freedom of Information Act.
There is every indication that we will see an escalation of attacks on those Bahamians who dare to exposed Louis Bacon's sordid past in business, reprehensible familial heritage and what appears to be a diabolical plan of human control in our 21st Century Bahamas.
For those sycophants of Louis Bacon or those who are upset that the self-proclaimed "white foreign outsider" is being outed by Bahamians, let it be known that these were the sentiments set out in a 2016 book attributed to non-other than form
er USA President, Barack Obama.
At page 314 of the book THE INTIMIDATION GAME, Louis Bacon is named along with others in the financial arena and reported as having been collectively referred to by Barack Obama as nothing but "wealthy individuals with less-than-reputable records" who were "on the wrong side of the law" and succeeding at "the expense of so many Americans".
We say, if Louis Bacon, the great grandson of a KKK Grand Dragon (Colonel Roger Moore) is deemed an undesirable by his own President, then it is not far-fetched for us in The Bahamas, for all of the many reasons that we have uncovered and now exposed, to believe that he should be designated PERSONA NON GRATA and expelled from our country before it is too late.
Remember, Col. Moore and his unrighteous cohorts were factually confirmed by USA authorities of Wilmington, North Carolina USA as being the directly responsible for overthrowing the duly and democratically elected Black Government in 1898 Wilmington, North Carolina, USA.  This led to a riot were hundreds of Black people were brutally murdered.
This is reflected in the 1898 Wilmington Race Riot Report completed by the 1898 Wilmington Race Riot Commission on 31st May, 2006.  This event is dubbed as the only occasion of a coup de d'état on USA soil in its 244-year Independent Democracy.
Like with Pindling, Ingraham and Christie, it is now the job of FNM Prime Minister Hubert Minnis to protect our sovereignty.
This leads us to express intrigue that the current Prime Minister has not taken any substantive ministerial portfolio.  This is a first in Bahamian history for a Prime Minister.  Who could have convinced PM Minnis to do such a thing?  Has he be fooled into thinking that such a move is not a preliminary move toward overthrowing him on a "no confidence" vote on the floor of Parliament?
Let's keep our eyes on the prize; the sovereignty of our Bahamaland controlled and protected by Bahamians, ONLY.  That's what we bargained for in 1967 with majority rule, and immortalized in 1973 with Independence and the creation of our Commonwealth of The Bahamas.
Was This Post Helpful: